SEARCH > Keyword
Club Benefit
Member Benefit
Audio Visual / Technology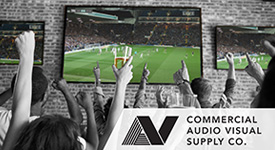 Commercial Audio Visual Supply Co
Commercial Audio Visual Supply Co
Audio Visual / Technology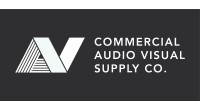 Contact Person: Richard Sextone
Email: richard@commercialavsupply.co.nz
Phone: 09 622 0447 or 027 551 3315
Technology is our Passion - Supplying it is our Craft
Commercial Audio Visual Supply Co. are a 100% New Zealand owned company run by individuals with over 30 years' experience in the commercial audio visual field. We specialise in hospitality supply utilising the best products from the world's leading manufacturers of audio visual equipment.
We spend our time gathering all the best equipment together, filter out the equipment that doesn't meet our criteria, and focus on supplying you with the best expertly packaged solution.
Quality audio and visual integration has become a great way to engage with patrons and improve the customer experience. Simply explained, your patrons will have more fun at your club, stay longer and keep coming back.
Projectors, large screens, ultra-high definition smart TVs and sound equipment installed throughout your club really boost the experience of sporting games, live TV, performances and even digital menu boards to catch attention.
We strive to offer the most cost efficient and technically advanced solution for you and your members on the following products:
TVS 
Projectors and screens
Sound equipment
Digital display panels
LED Walls
Food Display cabinets
We are:
Practical and logical thinkers.
Specific and detailed designers.
Efficient and dedicated suppliers.
And we look forward to working with you.
More more information and to discuss your clubs audio visual needs contact Richard Sextone on 09 622 0447, 027 551 3315 or email richard@commercialavsupply.co.nz